Ohhh man, it's been a while.
I don't really know what happened, other than I went home for three weeks and there is never very much blogging inspiration there. Now I'm back in Glasgow ready to start fourth year (le cry) and will hopefully be getting back into blogging a wee bit more.
A while back I changed my room around a bit and moved my desk into the living room to keep uni work out of my bedroom and introduced a new desk as my dressing table where the old one had been.
The desk is the
Borgsjo
desk from IKEA for only £40. The chair is also from IKEA and was £60 although I can't find the link online. I found it in the kitchen chair and table section of the store, rather than the desk chair section.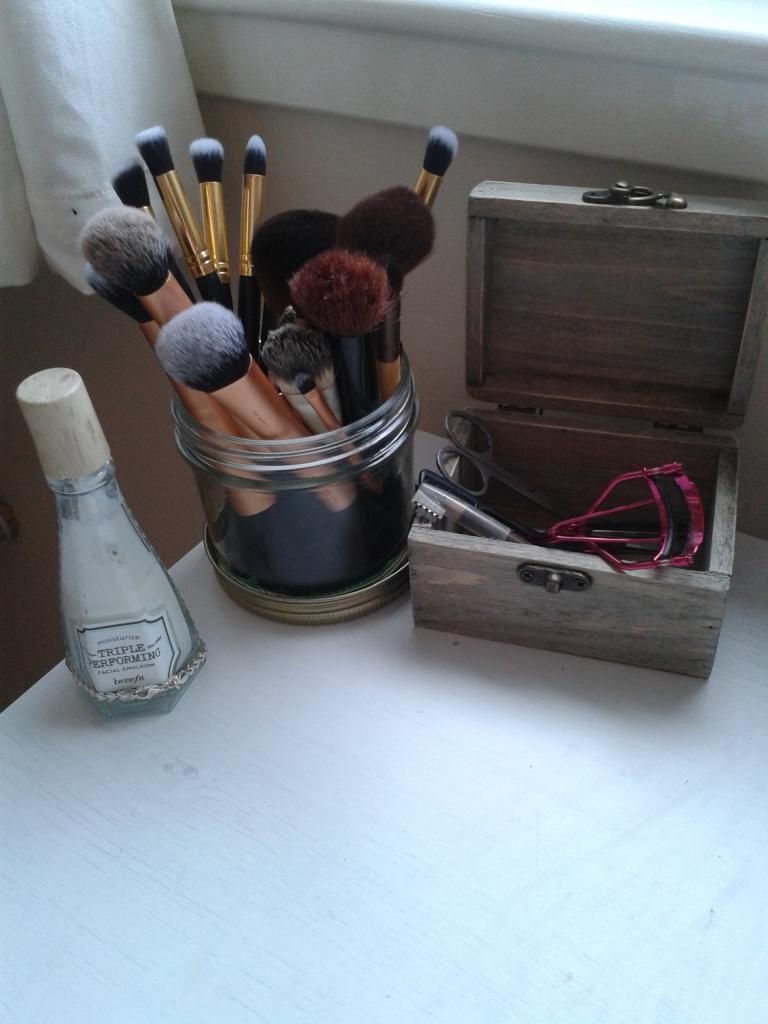 Because the desk doesn't have drawers, it does mean that the top gets a little crowded, so having the right place for everything is really important to me.
The jar my brushes are in is from TK Maxx (has some clichéd French writing on the other side, but silly me forgot to turn it around). It's the perfect size for my brushes at the minute, although it would be better to have them split into sections.
The small wooden box was from an independent shop in Bath that I can't remember the name of. It was only £3.50 and light enough to take back in my luggage but I didn't really know what I was going to do with it. At the minute it's holding my eyelash curlers, tweezers and nail scissors.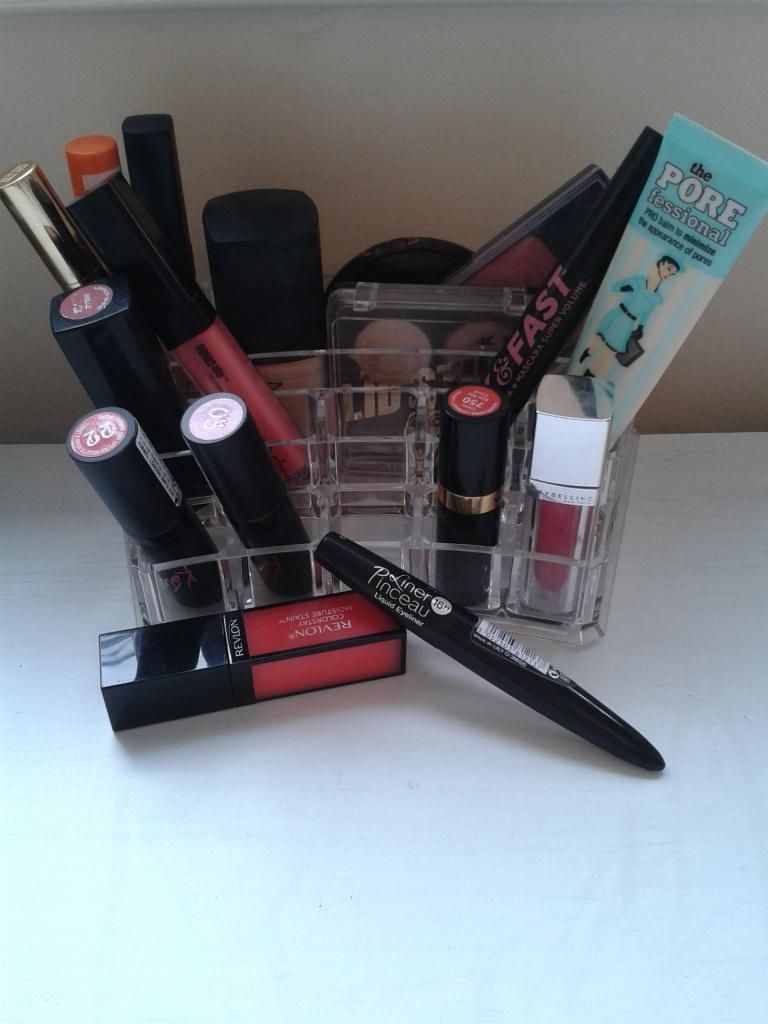 This useful little acrylic storage holder (similar to the Muji storage) I also found in TK Maxx for £6 which I thought was an absolute bargain. I was beginning to give up hope until I had a look in the bathroom section rather than the box/storage section and they had quite a few available, including one just for lipsticks. I liked this one because it has a long space at the back wide enough for foundation bottles. At the minute I'm using this for my 'everyday' make-up which I'll rotate depending on what I'm using. Just means I don't need to be digging around in drawers every morning!
Two of my newest purchases are in here - the first is the Revlon Colourstay Moisture Stain in 025 Cannes Crush. I love this because it's so pigmented but isn't sticky at all like most glosses. It stays put for a fair while and just feels like a dream. Second is the long awaited Maybelline Colour Elixir in 710 Rose Redefined. This is another lovely non-sticky gloss in a beautiful nude pink colour. Perfect for everyday!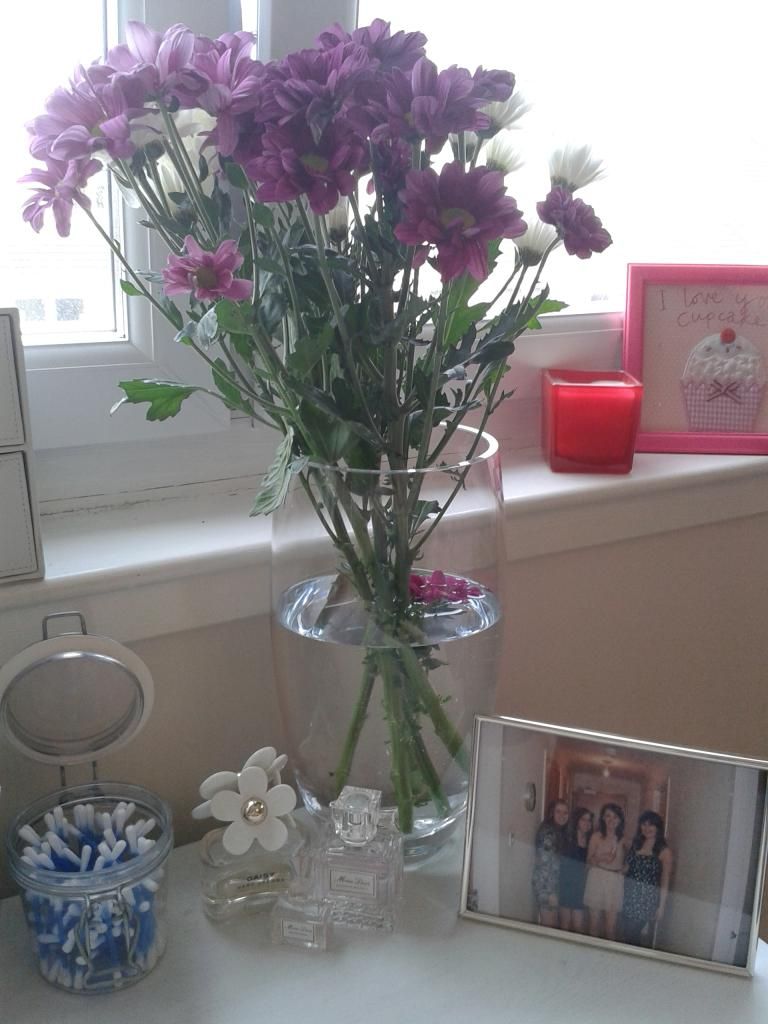 The far right of my desk usually changes between candles and flowers. Today I decided to pick up some flowers (duh, as you can see) and put them in my
vase
that I got from my brother for my 21st from John Lewis. Next to it is a picture of me and my three old flatmates on my 21st birthday, my two current perfumes (Marc Jacobs Daisy and Miss Dior Blooming Bouquet) as well as a miniature of Miss Dior Eau De Parfum. My cotton buds are in an old body scrub jar with a super useful hinged lid thing...
Next is my nail varnish storage. This little chest of boxes was from Next sometime last year - so I don't think it's still available, but they often have similar things, and TK Maxx definitely have other options. I bought it not realising how small it actually was (drawers are the height of those nail varnishes) so struggled to work out what I was going to put in it. It's not ideal, but it keeps them out of the way and it's easy to see the colours when they're standing upside down (I'm not sure if this is bad for them - if anyone knows, tell me!)
Of course - as the organisationally (I've been awake since 7am and it's now 10pm - is this a word?) obsessed person I am - of course I had to colour code them as you can see (sort of not really) in the photo above. This doesn't have a home yet, but sits on my window sill above my desk.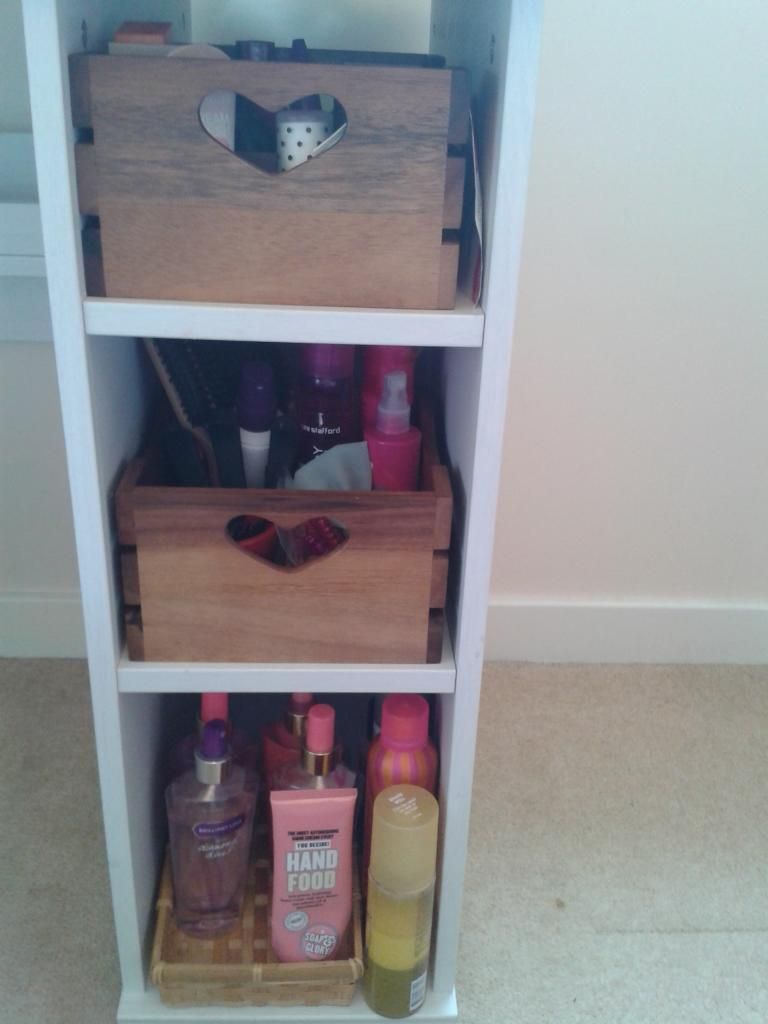 Underneath my desk is these units, designed I guess for a computer unit so aren't the most practical of sizes. The two wooden crates were from TK Maxx at £9.99 each and the small wicker basket at the bottom was one my Mum was throwing out.
The crates are split into four which saved me from having to add additional storage boxes within whatever I chose. This is where I keep the majority of my make up that I know I might want close at hand - foundations bottom left, primers and concealers bottom right, powders, bronzers, blushers and highlighters top left and all my eye products top right. Easy, organised and sturdy.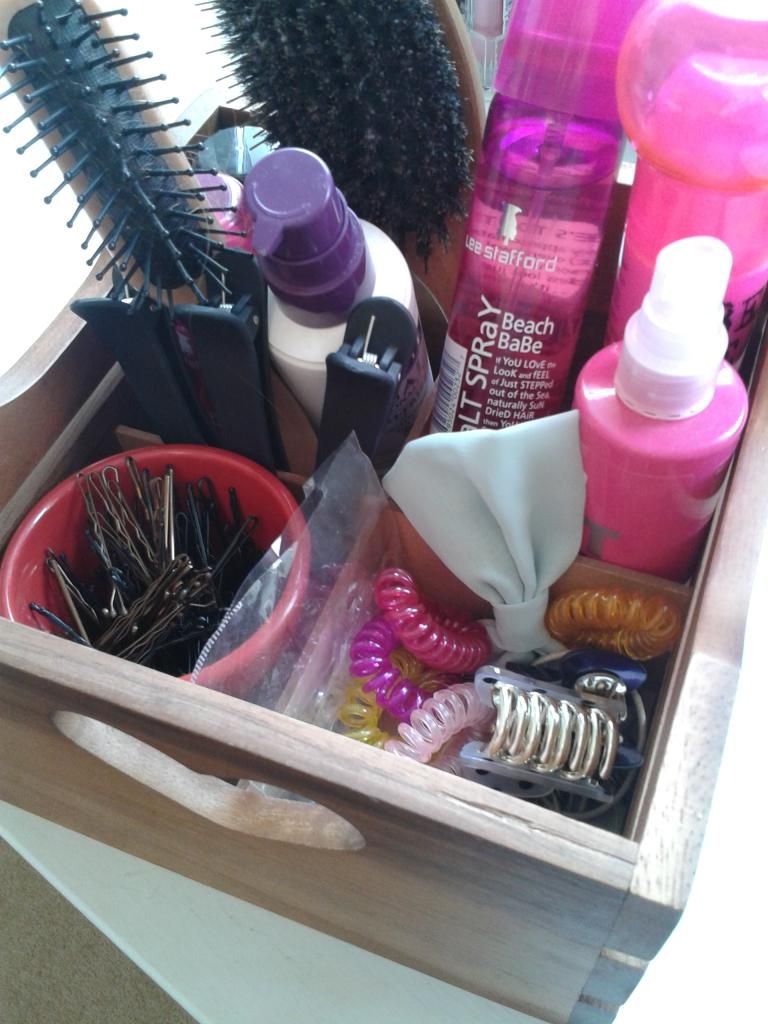 The second crate is for all my hair bottles, brushes and sprays. My kirbies (/bobby pins, whatever you want to call them) have their own section of their own because there's always so goddamn many of them. Next to them is all my hair ties, kink free ones and clips (Accessorize have a tonne of cute ones atm). Then in the back are my serums, heat protector sprays and frizz controls etc and hair brushes.
Below that in the photo I didn't take a close up of because it's pretty boring - but I keep my Victoria Secret body mists and hairsprays down there.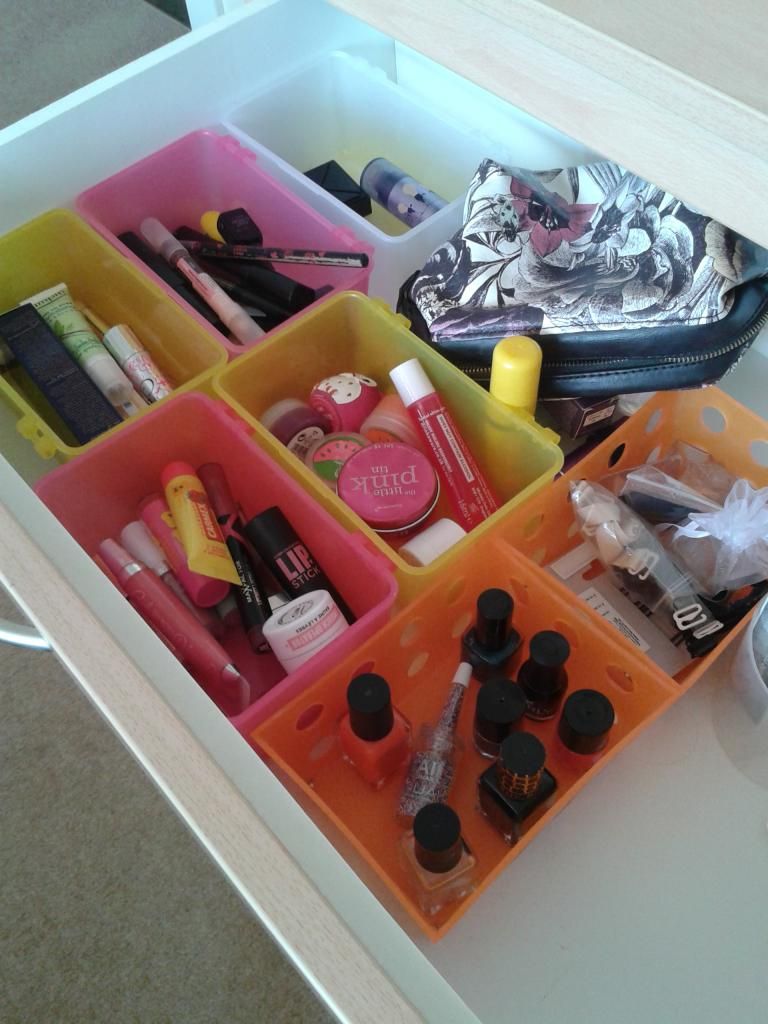 Finally is my overspill drawer. This used to be more full, but most of my make up is now in the crate at my desk. The rectangular
pink, yellow and clear boxes
are another IKEA purchase - one which I think beauty bloggers are missing out on, as I've never seen them mentioned anywhere. I found them in the kids section one time and bought a set of 3, then every time I've returned I bought more. I now have all of these, three sets in my bathroom cupboards, two sets in my study desk and another waiting for some super useful purpose - there will be one. For only £1.50 for 3 they are literally a God send for make-up storage. Beauty bloggers take note - you saw it here first!
I realise this was probably a bit of a boring post, but since cute-ifying my desk I couldn't resist jumping on the band wagon and sharing it with you all.